THE TEAM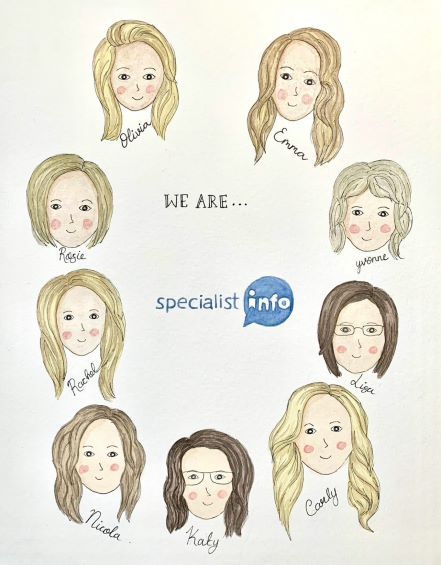 Olivia Whiteside - CEO
I am delighted to be working alongside Emma, heading up the fantastic team at SpecialistInfo. It is an exciting time for the Company as we develop and improve our website and the ways we can deliver information to you. I studied medicine at St Bartholomew's and The London Hospital School of Medicine, during which time I received first class honours in a Neuroscience BSc at University College, London. I have worked as an ENT Consultant for over 10 years both in the NHS and in private practice. Any spare time I have, I love to spend with my family, preferably playing tennis or on a pair of skis!
Emma Taylor - Managing Director

I joined SpecialistInfo after graduating from Bournemouth University in 2003. Mentored by the late great Hugh Whiteside, my main role in the company has been focused primarily on subscription and data sales. In 2020 I was appointed as a director – a role that I have fully embraced. I feel very proud to be at the helm alongside Olivia of this all female company. Outside of SI you will find me in the gym lifting weights or bashing out burpees!



Rachel Platt - Editor-in-Chief

I have worked for SpecialistInfo for 14 years, starting as an Assistant Editor in 2007. Prior to this I lived in the USA and graduated from Southern New Hampshire University in 2006. I have moved around a lot in my life, but when I arrived in Yorkshire I knew this would be where I stayed.
Over the years I have worked my way up to Editor-in-Chief and take great pride in our Directory. I spend my days editing, researching information and fielding enquiries from doctors and their secretaries. I also run the office, which is in a lovely Victorian building in Harrogate, and love to watch the seasons changing outside our windows.
Outside of the office, you will find me at home with my partner Rob, our cat Ceefa, and a good book. Either that or I'll be in the pub with a glass of wine!



Carly Gill – Data Sales Manager

I joined SpecialistInfo after graduating from Leeds University over 11 years ago. I especially enjoy the data side of business and receiving data requests from clients, the trickier the better in my book. An excel geek at heart! When not working, you will most likely find me at the side of a pitch watching my three boys play football.



Lisa Cheyne – Medico-Legal Manager
With a background in scientific and medical editing, I have worked at SpecialistInfo since 2012 as Medico-Legal Manager. My role in the company is to organise our medico-legal training and edit the Medico-Legal Magazine. I also work with our Editorial Team to ensure our database of over 60,000 UK and Irish hospital consultants is constantly updated. I am married with one daughter. As a family we enjoy outdoor activities including sailing, climbing and skiing.



Nicola Guy – Conferences Manager & Editor

I have worked at SpecialistInfo for 14 years. My role in the company is to organise our 2 annual conferences; The Medico-Legal Conference and The Medical AI and Robotics Conference. I also work with our team of Editors to ensure our database of over 50,000 hospital consultants is kept up to date. Outside of work I enjoy spending time with my husband and 2 daughters. I like to keep active by walking and cycling and enjoy socialising with friends and family.